So, you want to use pigeons to train your dogs. Here is an article to help you do that. If you use the methods and information here you will have easy sucess.
"Young birds" (yb's)
You want to start your loft with young birds. The age would be from 1 month to 3 months. If they are older than 3 months they may get heavy on the wing. This means they will fly too far too qiuck and get lost. If you get 1 month old birds be carfull to check they are all eating and drinking good. When you first put them in your loft dunk their heads in the waterer. You may also want to make sure the water and feed are on the ground cause birds this age can't fly very well yet.
"Buying birds"
When you buy birds look for either yb's to start your loft or old birds for prisioners (birds you will never let out to fly). The advantage to getting yb's to start your loft is so you can fly your breeders. The disadvantage is the time it wil take them to mature and start breeding. I would advise going with yb's if you can find good stock. Some people have luck resettling old birds but this is never a sure thing. If you are going to try this wait until they have bred in your loft first. Look for racing stock to start your loft. Alot of racing guys (myself included) will get rid of almost all their racing team every fall. This is a way to get good stock but they will be prisioners. It is alot harder to get young from racing guys but with some research you can find it. Last thing is to make sure the birds are healthy. This very important and if you loft is free of disease and you get healthy birds you will probably not have any probelms.
"Lofts"
A loft can be built very easily and here are some examples of some to build.
http://www.redroselofts.com/starter_loft.htm
http://www.uplandbirddog.com/training/loft.html
I really like the red rose loft. It will house about 24 pigeons and you can have perches and breeding boxes very easily. The other one here is very small but if you are going to only have about 6-8 birds it is good. If you have the bigger loft and have some breeding pairs you may never have to buy a pigeon again. Your loft should be very dry with good ventilation. This will go a long way to keeping your birds healthy. You will need a trap in the loft and this is where the birds come in and out. Here is a pic.
This one has the bob trap and predator door. The bobs (bars hanging down) flip in but not out. So the birds can come in by just pushing them in. The predator door is a must and this should be closed every night to keep animals out. I use a deep litter system that is basically pine shavings that cover the floors about 3 inches deep. I use a pitch fork to clean this and roll it over as I clean. This helps keep the loft dry also.
"Feeding"
You should feed a grain mixture with at least 15% protein. Usually these will consist of corn, austrainian, canadian, or maple peas, milo, safflower, wheat, millet, and/or barley. The birds should have clean unsoiled water in front of them at all times. They should also have pigeon grit and this is different then chicken grit. You will start to feed these birds daily and there is 2 methods that I recomend. First one is to put the feed down for 10 min. then pick it up. You can either measure how much is gone or just put it down for that period everyday. The second is to feed 1 ounce per bird per day. The reason for this feeding is to keep the birds hungry. They will remember where home is alot better when they are hungry. When you goto feed your birds you should make a sound so they know the food is coming. Some people rattle a feed can some whistle. I like to whistle. Later you will use this to get your birds in.
"Health"
If you start with healthy birds and your loft is healthy you will most likely stay that way. There are vaccines for pigeons for pox, pmv, and parathroid. There is also meds. for canker, worms, respitory infections, saminella, coccidious, malaria, and alot of other not common things. You can treat for worms with the same ivomec cattle wormer most us use for our dogs. Just put 2 drops in their mouth. There is a long list of meds. for the other sicknesses but I use a med that works on 5 things. Respitory, cocci, worms, canker, and saminella. It also has proboitics in it. If anyone want a link to this a can post it.
"Training"
I am going to be talking about yb's here. Once you have had your birds for 3 weeks you are ready to start training. Some people use what is called a settling cage. This is a cage that you can put your birds in and place in front of the trap with a open side to the trap. Your birds can then go back into the pen through the trap and this teachs them how to trap. You can set this on a landing board and most lofts have this to allow the bird to land on and walk into the pen throught the trap. There is a landing board on the front of the first loft here.
I don't use a settling cage. When I start my training the first time out. The birds will have not eatin that day. Make sure you are folowing the feeding guidlines at this time. It will also be 1 hour from being dark. I will open the trap (hook all bobs up so none hang down) and just leave them alone. If they want to come out fine if not that is fine too. I will only do this in good weather with not too much wind. When it is closer to dark use your feeding call to help bring them back in. When they are back in close your trap and go feed. I will do this for a week. Make sure not to scare them during this period. After the week the birds will be going out and maybe flying around a little. Then I will do the same thing but this time I will go into the loft and coax all the birds out. I will then put most the bobs down but leave 2-3 up. I will then feed. The feed in now the reward for trapping soon. I will try to drop anouther bob everyday I do this until all the bobs are down. Now your birds are flying and trapping. I do this for a few weeks. I just open the door push all the birds out and close the trap then feed. The birds will start to want to go out and fly and start to love it. Depending on how far your training grounds are you could start using your birds anytime. If your training ground are further away I would keep loft flying your birds for 2-3 weeks. The key is to see when they start routing. This means are they taking off and going out of sight for 10min to 1 hour. They shoud be routing before starting road training. This is where you take your bird in a crate towards your traing area and let them go or "toss" them. If your birds are routing then put them in a crate take them to the realease point and let them sit for a few minutes (this helps them get their bearing). Then you will release them in these distance intervals. Once will be beside your loft, then 100 yards, 1/4 mile, 1/2 mile, 1 mile, 2, 5, 10, 15, 20, 40, 80, how ever far you want. The one thing you have to keep in mind if you are taking them a long way is make sure they are in good shape. This means if they haven't been out flying for a while don't go toss them a 100 miles and think they are coming back.
"Breeding"
If you want to breed you have a few options. Get proven breeders (suggested), get just hens and cocks, or just get what ever you can. Proven birds are the best and fastest way to do it. You will have to have breeding boxes for the birds and these can be many different ways but here are some options.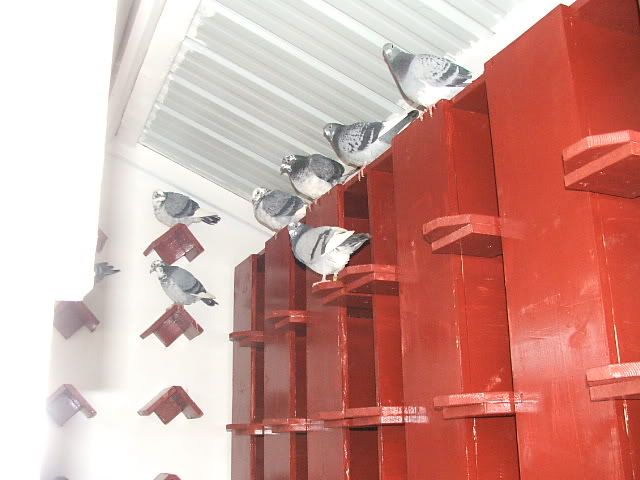 Make sure you have nesting materials in there and I just use straw. If you have a seperate loft for your breeders I usually give them all the feed they want. If they are together with your other birds that are flying and you are measuring the feed out for them make sure you add a once per baby. Pairing birds can be done a few ways. If you look at the second pic you will see that these pens can be closed. You can put little waterers and feeders in there and lock a hen and cock in there. This will pair the birds fast but it is alot of work. Make sure you have a hen and a cock. If they are fighting alot then it is probably 2 cocks. If they have 4 eggs then it is 2 hens. Once they are paired then the front can be opened up and they can fly around again but this will be their box. Anouther way is the natural way. This is fine but sometimes slow especially if it is going into winter.
Good luck with your pigeons and I know I forgot some stuff but I just sat down and started typing so I will answer questions also. Jason/ohiogsp
Well, I am seeing from my photobucket account alot of people are still looking to this for help. So, I thought I would post my new trap design for this year. I have had almost no losses of birds when settling them and it has worked great. So, this may give you some ideas in your loft. Here is the pics.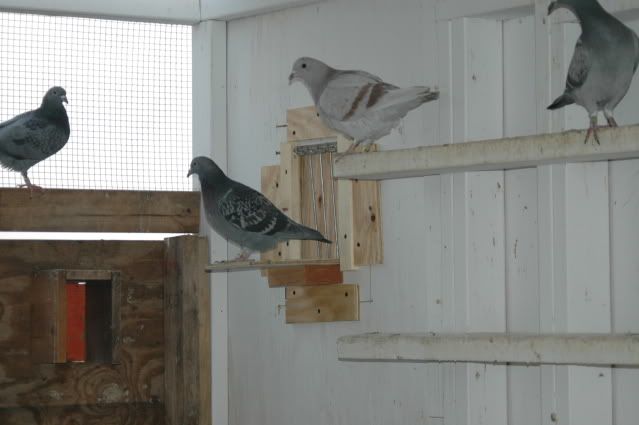 The birds have to go outside through the bobs inside the loft. Then the aviary is 2 sections and they have to move to the second section to go back in the loft. Here they have to use the stall traps (difficult trap for racing). There is a divider board between the 2 sections cause the first time out there I block them so they were stuck in the second section and know where the stall trap is. There is also a slided 2x4 with a piece of plywood on it to block the aviary totall if I want to (like for catching birds). Also the front of the second aviary section is the landing board. So once the birds have been forced out into the aviary and came in on their own you can drop the landing board and they have no problems. It is like a aviary and a settling cage.